High Fidelity Entertainment is a Calgary wedding DJ company with three experienced DJs; Rémi Sauvé and Sean Ryan who specialize in providing reliable, affordable, and memorable disc jockey services for weddings, corporate events, and private parties in and around Calgary, Alberta.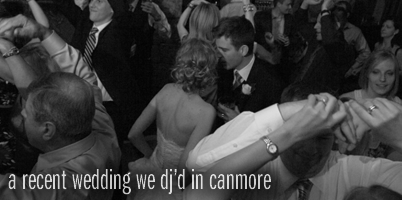 The 2018 wedding season is winding down and we're starting to book for the upcoming Christmas season so let us know if you haven't yet booked your DJ and are interested in a free consultation. You have the option of choosing between our 5 different DJ packages, each of which can be further customized to meet your exact needs.
We understand that your time is important and that's why we post all of our rates online. Even approximate travel costs can be calculated for events outside the city (ex. Canmore, Banff, Miami, …etc…). Take a look at our 'Services & Rates' page for more details on our rates and other services such as the Love Story video.