Corporate Function Testimonials
Jubilations Dinner Theater
"We have used High Fidelity Entertainment for many different functions over the past many years, and always had an excellent experience. They are very professional to deal with, and they put on a first rate show. In particular I find them to be very tuned in to what the entire audience is enjoying, rather than playing the song choices of a select few requesters. Top notch!!"
– Robert Cunningham – General Manager, January 2015
---
Libin Cardiovascular Institute of Alberta – Charity Fashion Show
"This year, we hosted a charity fashion show in Calgary, requiring over a year of planning. Anyone that has ever planned any event – from a private function, to a wedding – knows that the greatest thing that can happen amongst all of the planning stress, is to have someone that you can take for granted.
I definitely took Sean, our DJ, for granted when planning this event; he was so organized, completely self-sufficient, and reliable – and it was his first fashion show! The day of the event was madness, with questions coming from all sides, and I remember feeling so relieved by his professionalism, and calmness amongst it all. I think it is hard to stress how important these qualities were – that someone you just met is able to read what you need in the midst of everything else going on with an event, being able to take for granted that they will always be on time, and be completely professional and organized, and really deliver with the music, set-up, and event.
In addition to all of the professional qualities, what really put Sean and this group above the rest was the personal aspect. He donated a large portion of his time for the charity event, and really made it a wonderful evening. I would strongly recommend High-Fidelity Entertainment, and Sean, for any event."
– Anna Schmidt, September 2010
---
Double Blue Bash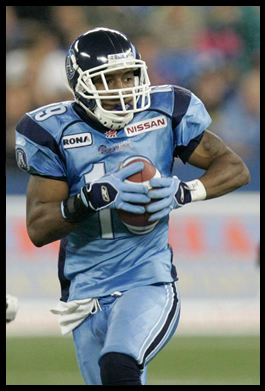 "The Canadian Football League, and in particular the Grey Cup, are two widely cherished institutions in this country. The Grey Cup Festival is an annual event that takes place in the host city during each and every Grey Cup Championship. This year's edition took place in Calgary, Alberta and as fans from across the country began to arrive, the festival kicked into high gear and as they did, the Double Blue Bash was marked on many of their calendars.
On Saturday, November 28, at The Unicorn Pub in downtown Calgary, the Double Blue Bash kicked off and along side the event emcee, Adriano Belli, Rémi Sauvé and Sean Ryan of High Fidelity Entertainment treated Argonaut fans to a celebration that maybe unmatched. In fact, according to two lifelong fans, 'the Double Blue Bash was a blast… definitely the most successful Argonaut Grey Cup Party to date'.
I was referred to Rémi from High Fidelity Entertainment and immediately after our first discussion about the event I knew that he was who we needed to ensure the party's success. From the professional manner in which he carries himself to his ability to understand and adapt is the reason the above response came as no surprise and many other fans echoed the same sentiments. On behalf of our fans and the entire Argonauts organization I would like thank Rémi and Sean!"
– Matt Afinec, January 2010
---
GEDCO Annual Client Appreciation Event
"We worked with Rémi for the first time last April for our annual client appreciation cocktail attended by some 150 guests. Leading up to the event, Rémi was attentive to our specific demands and delivered precisely what we asked for. He came to the venue ahead of time and prepared. His musical taste was appropriate and attitude was also highly positive, all of which made for a pleasant and dynamic ambiance for networking with our guests. We do hope to work with Rémi again in the future."
– Marie-Hélène Thibeault (Marketing Manager – GEDCO), May 2010‎