Wedding Testimonials
Leah & Adam Wedding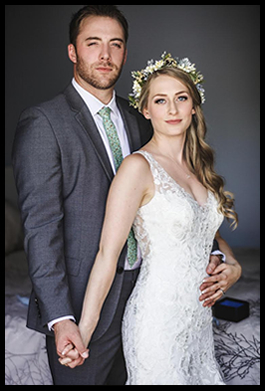 "From the moment we met him, we knew that his laid back, fun-loving attitude would be the perfect fit for our non-traditional, country-chic wedding – but little did we know he would pull through in so many other ways!
Remi was super organized prior to our big day – sending us an entire package to review and fill out for our music expectations. From the ceremony music to the dinner and dancing music, he nailed it all. As soon as we would ask for a song, he was right on it. Our guests literally would not stop dancing… I mean, WE COULD NOT STOP DANCING! That's right, Remi stayed MUCH later (like next-day-later) than we originally requested and insisted he was having as much fun as we were. If that wasn't enough, he accommodated some pretty strange song requests and even offered to drive guests home!
Remi, we can't thank you enough for helping make our wedding as memorable as it was. You are so kind and funny and we truly appreciated all of your efforts. Anyone who wants a hard-working, cooperative, and exceptionally talented DJ would be crazy not to hire you!"
– Leah & Adam, August, 2016
---
Kristen & Jon Wedding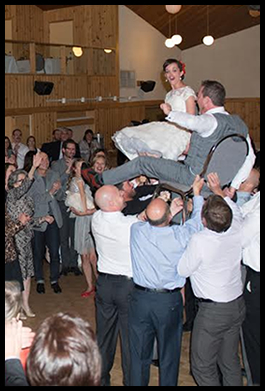 "OK, this is a long review, but if you are considering hiring Remi for your event it is really worth your time to read it.
First, the normal stuff. Remi is a great DJ. Throughout the wedding planning process Remi just kept solving problems we didn't even know we had. He had music ready for every part of the ceremony and reception. When problems arose Remi had a solution, and when random guests at the reception started adding things to the agenda at the last second he just rolled with it and made it all work. We had a complicated group of people to please, and had 3 distinct types of music that we needed to alternate and he managed to keep the dance floor alive for hours. It was fantastic and everyone, from age 8 to 80 was dancing.
Now, the truly amazing stuff.
At the end of our wedding night, when we were all about to leave the reception hall, we suddenly came to the horrifying realization that our caterers had ditched the vast majority of their cleanup duties. It was 1 am and there was crap everywhere. We knew there was another event coming into the reception hall the next morning. It was a 180 person wedding and there was still leftover food, dirty plates, and all the centre pieces and chair covers sitting out. A massive amount of work and the catering staff was just plain gone. My new wife and I were in a mild panic. If we just walked away we would be screwing over whomever was in the hall in the morning, we would lose a substantial damage deposit and whomever did clean up would probably (understandably) throw out the centre pieces. Let's conservatively call it a $5000 problem.
The only people at the hall were myself, my wife, 3 friends, and Remi. Remi insisted on helping out, rolled up his sleeves and jumped in. He pulled me out of the kitchen to keep me from doing dishes in my brand new suit. He helped haul heavy boxes of centre pieces out to our van. He helped clear dirty dishes and remove chair covers etc etc and he kept a smile on everyone's face with his shining personality and humour until all the work was done.
Our first night as a married couple could have been a stressful nightmare. Remi's calm demeanor and warm nature made it impossible to be anything but grateful. He took what should have been a terrible end to our night and made it a heartwarming experience and kept a smile on our faces.
In short, he's a just plain awesome guy. You should hire him."
– Kristen & John, October, 2014
---
Kim & Sean Wedding
"It was a pleasure having Remi DJ our wedding last July. We were first drawn to High Fidelity mainly because of the personable and down-to-earth feeling that their website displays. After my first conversation with Remi, I realized that the company reflected his attitude perfectly towards providing good quality DJ service. Our consultations with Remi were great, he catered to our needs and left us feeling confident. The wedding service went off without a hitch, all songs and cues were executed flawlessly.
And as for the dance to follow – we still have people telling us that our wedding was one of the best parties they've been to in years. We owe a lot of that to Remi, as he has a talent for gauging what the crowd is into and keeping people moving. The floor was packed all night; people were still dancing when the lights came on and the hotel staff were packing up tables and chairs! We even had other weddings come in and join the party at one point during the night….
I would definitely recommend High Fidelity Entertainment to anyone that is searching for a professional, high quality DJ service that will make you dance the night away. Thanks Remi for helping make our big day so much fun!"
– Kim & Sean, July, 2014
---
September & Maxi Wedding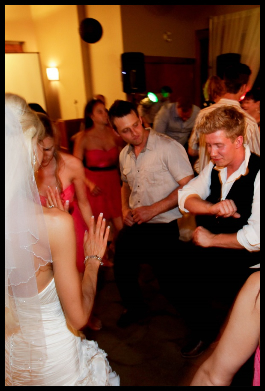 "Remi's music inspired a night to remember! Our wedding reception was more fun than we ever expected. Our guests had an amazing night full of laughter, fun and dancing. Even those guests who we expected to remain seated for the evening came to the dance floor as Remi played a variety of music to interest all of our guests. He made sure to inquire about our music tastes, as well as our guest's music tastes, and he came prepared with all genres. He also maintained communication with my husband and I throughout the evening about the music selection just to make sure it was as we expected.
Remi travelled to Kelowna for our wedding and was happy to bring any equipment necessary for our reception. He was amazing with being in contact with the maid of honour and best man about delivering speeches and organizing the itinerary for the evening. Remi enthusiastically took on some MC duties and was always friendly with our guests. His personality and DJ talent make him the right choice for any wedding. Remi was at our wedding to make sure we had a stress-free wedding to remember and he delivered!"
– September & Maxi, July, 2014
---
Kendra & Emanuel Wedding
"We just wanted to say a BIG THANK YOU for being our DJ for our wedding. You have some serious talent and were so organized and just made our night super fantastic. We really appreciate you attending our rehearsal and working with our MC, Trevor, making sure there were no awkward gaps throughout the evening. Our guests really enjoyed all of the music that you played and your vibrant personality. We will highly recommend your company High Fidelity Entertainment to everyone that we know – we would not have had such a great party if it wasn't for the music and atmosphere that you provided and I hope that you enjoyed the night as much as we did. We wanted an awesome party and thanks in large part to you we were able to make that happen! Many thanks and have a wicked summer!"
– Kendra & Emanuel, June, 2014
---
Cassandra & Shawn Wedding
"My name is Shawn and my girlfriend Cassandra of 6 years and I got married on June 8th and all I was in charge of was the music. I thought it would be easy… No it sure wasn't easy. You got to find a DJ with skill and a DJ that really knows what he's doing at a good price. Not one that will rip you off. Remi and is company are amazing! They really worked with me and gave me whatever I wanted at a good price. Cassandra and I had an amazing time and it wouldn't of been the same without remi and his company. They are the shit!!! And if you need a DJ, he's the one to go with. I still can't thank him enough for the amazing job he did and I will use his company again, that's for sure."
– Cassandra & Shawn, June, 2013
---
Amber-Lee & Dave Wedding
"Remi is an amazing DJ. We hired him for our wedding in March 2013 and were blown away by his entusiasm for his craft! He is able to read the crowd and knows exactly what to play to keep people on the dancefloor. In all of the weddings I have attended, I have never seen a dance party start so early and keep going so long! We both highly recommend Remi and his team for any event. He knows his stuff and would be hard to beat. Thanks Remi, you're awesome!!"
– Amber-Lee & Dave, March, 2013
---
Jana & Kevin Wedding
"Awesome DJ service. Remi was professional, friendly, hard working, and went the extra mile to make sure the night was perfect. He had the dance floor rockin' from the first song to the last, and the dance floor was packed with guests of every age. Thank you!"
– Jana & Kevin, October, 2012
---
Jody & Amit Wedding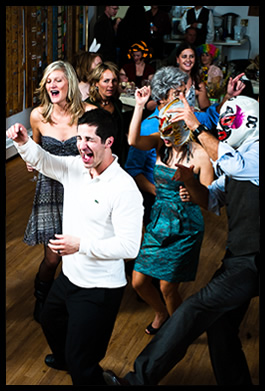 "Remi rocks! We had such a great time at our wedding, and the dancing was as good as it was because of our DJ choice. Our wedding happened to be over the Halloween weekend, hence the costumes/wigs that came out a little later in the night. Remi was so into all the fun, from the beginning of the night (he did our ceremony music at 5pm), through to the dinner (playing cool jazz tunes) to accommodating our guests' more alternative Canadiana music choice for rocking the dance floor. Our crowd was so into it, the party went until 4am and Remi was willing to stick it out until the last person standing just couldn't take one more dance! And he was more than willing to gather requests beforehand, and take them as the night went on. He was very organized to ask details of what types of songs we like, what our first dance will be, ceremony songs etc. with a questionnaire he provides to you when you sign up for his services. His passion for music and a good party is noticeable; you're unlikely to be disappointed!!"
– Jody & Amit, December, 2011
---
Stephanie & Lee Wedding
"We hunted around for wedding DJs for a while before coming across this gem. Remi has an unparalleled enthusiasm for being a wedding DJ! He is just so stoked to contribute to the night of your lives! The music was hugely varied, and given that we had an outdoor venue he brought just the right amount of speakers and lights to keep the party rocking without offending the grand parents in the crowd. He blended requests from the crowd in with our personal requests, and did not miss a beat. The dance floor was packed from the first dance to the last one of the night when the cops shut us down… truly an epic evening! Perhaps even more awesome was that Remi even gave a lift home to some of our guests when the cabs wouldn't show! A complete package, wouldn't have changed a thing. Thanks High Fidelity!"
– Stephanie & Lee, November, 2011
---
Kim & Nick Wedding
"Remi exceeded our expectations. He impressed by hosting multiple pre-wedding meetings to discuss our needs and offer suggestions. Then, come our wedding day, he was up at our venue early, ensuring his top of the line equipment was ready for flawless transitions from video to dinner music and finally to the dance floor.
Of course, the music can make or break the event and Remi definitely had the right mix to get everyone of all ages up and dancing. We received endless positive feedback on High Fidelity's music and video capability and would recommend High Fidelity to anyone. Thanks Remi!"
– Kim & Nick Cotter, July, 2011
---
Michelle & Scott Wedding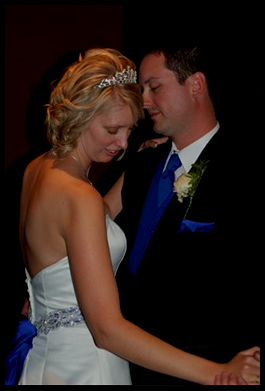 "We were on a tight budget and had planned on simply using our iPod for the ceremony and dance at our wedding – that is until we saw Ryan of High Fidelity DJ at our friend's wedding in June. We were so impressed that we asked Ryan to DJ our wedding in September in Banff. I have to say that this was one of the best decisions we made! Ryan was amazing and relieved a lot of the last minute wedding stress by taking care of many of the little details for us. High Fidelity's price was very reasonable and we are so glad that we decided to hire Ryan. We had a very small wedding reception but Ryan managed to get everyone up dancing with a great music selection and all of our friends and family had a blast. In fact, the music was so great at our wedding that we had people from the larger wedding down the hallway trying to crash ours and join us!
We would highly recommend High Fidelity to anyone looking for a DJ for a wedding or any other event."
– Michelle & Scott, September, 2010
---
Meghan & Tyler Wedding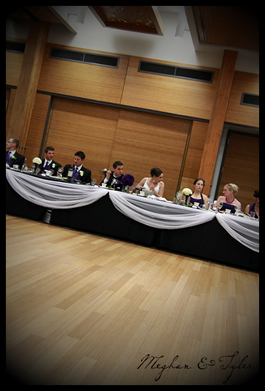 "While stressing about planning our wedding, we were fortunate enough to come across the High Fidelity website, and set up a meeting with HF. We knew at once these guys were the high-energy, going above-and-beyond client expectations type we needed for our party.
Ryan of High Fidelity certainly did not disappoint. Even my dad(!) was impressed with him; claiming afterwards that he was a "really nice guy" and gave him a tip. I often hear people complain that their DJ did not play the requests given to them by the bride and groom; that was certainly not the case here. Every song we asked for was played (even the songs we brought to Ryan on a CD), and the stuff he threw in was right on track with the present mood of the guests, old and young.
Ryan even pulled out his camera and snapped some of the best pictures taken at our reception, and gave them to us just because he's that nice of a guy. Now we just need another excuse to bring these guys to a party…‎"
– Tyler Bilawchuk, August 2010
---
Maya & Reid Wedding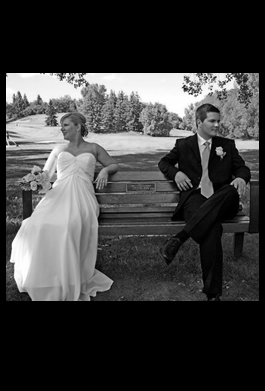 "We stumbled upon High Fidelity doing a general search for DJ's for our upcoming wedding. Upon reading the testimonials we knew we wanted to meet with High Fidelity to see if they would be right for our wedding. When we met Ryan we knew that he was our DJ! He was very professional and organized which helped to take our minds off certain details and got us focused on actually having a great time at our wedding. Ryan did an excellent job at gauging the crowd and everyone danced until 4am! He also did a great job at incorporating some of the culturally influenced music at the reception. I would highly recommend High Fidelity for any event. Thanks Ryan!"
– Maya & Reid, June 2010
---
Mel & Bill Wedding
"Rémi, from High Fidelity, DJ'd my (and my wife's) wedding on October 3rd. From the first meeting I was impressed with his flexibility and professionalism. The music was very important to me and if our wedding had a theme, it was "rock n' roll". The wedding favours themselves were mixed tapes designed to feature music from both the ceremony and the reception. They had been finished before High Fidelity was hired, but Rémi was able to incorporate them into his playlists.
My wife and I both work in restaurants and know how important music is to ambiance, so I had very specific ideas and music requests. Rémi was asked to work with these and did so perfectly with a seamless playlist for dinner and afterwards, we never saw an empty dance floor.
Over the course of the evening and many times since, guests have remarked on the music played during the ceremony, dinner, and for the dance afterwards. The night couldn't have gone better, and I would absolutely recommend High Fidelity to anyone else getting married or for any other function or event."
– Bill Bonar, November 2009
---
Kim & Adam Wedding
"Somebody call 911! I could not have been happier! The funniest thing about it all is that my 'now' husband had always said "we don't need a dance floor, nobody will be dancing" – wow! Rémi had everybody – old and young – up on the dance floor breakin' it down! We were so absolutely happy! The dancing went all night long and shut the place down. It was seamless. There are only good things to say – THANKS REMI for keeping the FIRE BURNING ON THE DANCE FLOOR!!"
– Kim Carniel, October 2009